Think about how much time you spend in your bathroom. A shower each morning (20 mins), brushing your teeth/getting ready for bed (20 mins) and of course when nature calls (10mins), you can be in that one room for over an hour some days that's around 15 days over the course of a year!
So I think its safe to say it is defiantly an important room in any household and worth of a good deal consideration and planning when a re-design is occurring.
So how can you ensure that your planning properly and what sort of things do you need to take into consideration?
Budget
The first thing to think about is how much do I want to spend, how much can I realistically afford, where will the budget come from and how will I manage the costs?  We suggest you create a spreadsheet either digital or on paper, decide on an approximate budget for the entire project and then make a list of the main categories of items you require in the bathroom eg. shower, bath, vanity units, sink, toilet and dont forget fixtures/fittings, tiling/flooring and building materials such as plaster.
Once you have done this you should consider what percentage of your budget you will need to put aside for each category, so for example if you shower every day but only have a bath say once a month then its logical to spend more money on your shower than on your bath. You can the assign a rough maximum price to each appliance or materials.
Plan and Design
Time is money, especially when you are paying for someone else's! Make decisions quickly and try and have all the decisions that you possibly can made before you get a builder or plumber in taking a day to pick out the shower you want is a great idea when you are in the planning stages but not a good idea when you have a contracter standing in your bathroom getting paid to have the worlds longest tea break because you cant decide to go with the cream tile or the magnolia one!
Spend your planning time wisely, try and think about all the bases before arranging contractors and if plans need to change mid-project give them good consideration and dont rush into anything you may regret but remember you wont have days to ponder it like you would in the design stages.
Draw It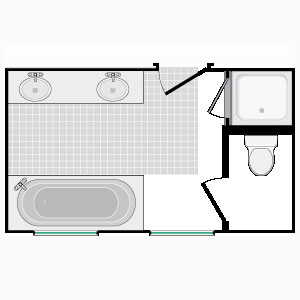 You don't want any un-expected surprises when you are assembling your brand new shower only to find that its 30cm to big for the room! It can be stressful and confusing to plan out your bathroom especially if you have an unusually shaped room or alcoves to consider. Fear not, here at Springwave we can use our computer software to create an accurate C.A.D design of your bathroom, with our experience we can then suggest a number of our products which would fit best and give you our personal suggestions of what kind of layout it most appropriate.
It may seem simple but when you start considering that some showers have pivot doors and therefore need more clearance space or that certain baths are only available in one orientation it can be invaluable to have the opinion and expirience of an expert. Just give our sales team a call and provide them with a very basic pencil sketch and they will be able to work wonders for you, coming up with innovative arrangements which will help you get the most out of your space.
Do It!
The next stage really is biting the bullet, buying what you need, arranging delivery and getting it fitted. At springwave we can help you through this stage making sure you are happy and confident about what you are buying, arranging quick delivery that best suits you and we can even help you fit your purchases. All our whirlpool baths and steam showers plumb in on flexible hoses so you can have a plumber set up all the supplies and drainage prior to the item arriving as there is no need for pin point accuracy. This also means that the showers can be easily accessed for maintenance as you can pull them away from the wall without any trouble. Think of how you would plumb in a washing machine and your not far off.
So that's it really getting the perfect bathroom is achievable and we are here to help you do it. If you have any quiries or need our help don't hesitate to give our sales team a call on 08450 17 10 38 they are always happy to help and give advice.
Enjoy this article?